Course details
【★】 【Wedding Second Affair】 ~ Delight Wedding After Party ~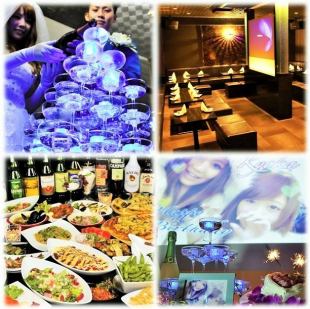 All-you-can-drink available

FreeDrink All you can drink (last order 20 minutes ago)
Reservation deadline

7 Days before 3 o'clock of the desired store date
Available days for reservation

Monday - Sunday - Public holidays - Holidays
Delight wedding second party is held tens of times a year Delight !! Experienced staff will cooperate fully from meeting to the end of wedding second party ♪ Delight unique free benefits, luxury pay plan as well! Budget, According to your request How about the best wedding after party plan? ☆ 1 pair per day limited ☆ 150 minutes of standard course with all you can drink & luxurious volume full score + 8 items of fashionable food!
Course menu
~ Delight Wedding After Party ~ Wedding Second Party Plan
Lounge Dining Delight's many unique benefits !!!
Satisfaction No doubt 150 minutes with unlimited drinks + volume full points + 8 items with stylish hood !!!
【About the flow of reservation and meeting】
1, As soon as you make an appointment, we will call you from the staff at Delight.
↓
2. We will talk about the meeting's scheduling, meeting date setting and simple flow by phone.
↓
3, We will prepare plans including secretaries and free benefits by contents talked by telephone on the meeting date.
↓
4, Delight's staff smoothly wedding ceremony will progress on the day of the wedding ceremony as the meeting
The staff of Delight will support and back up with full power.
ー ー ー ー ー ー ー ー ー ー ー ー ー ー ー ー ー ー ー ー ー ー ー ー ー ー ー ー ー ー ー ー ー ー ー ー ー ー ー ー ー ー ー ー ー ー ー ー ー ー ー ー ー ー ー ー ー ー ー ー ー ー ー ー
【Course meal】
◇ Colorful seasonal salad
◇ Seafood carpaccio
◇ Three kinds of fried potatoes 【Salt / Consome / Cheese】
◇ Camembert fried triangular cheese
◇ duck smoked
Shrimp and mushroom cream butter saute
◇ Chef's commitment pasta
◇ our recommendation dessert
※ The cooking content may change depending on the purchase situation.
ー ー ー ー ー ー ー ー ー ー ー ー ー ー ー ー ー ー ー ー ー ー ー ー ー ー ー ー ー ー ー ー ー ー ー ー ー ー ー ー ー ー ー ー ー ー ー ー ー ー ー ー ー ー ー ー ー ー ー ー ー ー
Course starting from 3500 yen, budget, according to your request Free handouts and fee-based handmade wedding cake / Champagne Tower / DVD player / Bouquet arrangement / Mike / Bingo / Cheki / Welcome board / Maximum 8 people including limousine arrangements We have various wedding after party plans available
Please feel free to contact us ♪ ♪
Kokubu-cho Kanzen-machi where you can enjoy the dining with full of opening feeling and the biggest impressive 100 inches monitor!
Use a lot of fun space to forget everyone, overflowing with a smile! Remembering memories Do not you make the best party with us?
For the bride and groom, and for everyone who will attend, Delight's staff will do their utmost to make it the best possible day !!
All-you-can-drink menu
· Beer & Beer Cocktail
· ■ ■ Barley ■ Shandigeraf / Red Eye / Black Eye / Yellow Eye / Black Eye
· Whiskey · Highball
· ■ Whiskey (water split · lock · fizz) ■ Rin high ball / horn high ball / mega angle high ball / ginger high ball / cork high ball
· Japanese sake · shochu
· ■ hot / cold sake ■ Japanese sake cocktail: samurai / last samurai / back samurai ■ Wanko / Nanko (wheat)
· Wine & Wine Cocktail
· Red wine / White wine (glass) ■ Wine cooler / American lemonade / Splitzer / Kitty / Miffy / Red ball punch / Karimocho
· Fruit wine · Plum wine
· · · Big Fung / Honey & Yuzu / Sequercer / Mango (Rock · Sour · Ginger · Fizz) · Plum wine (Rock · Soda · Water · Green tea · Ginger split)
· Sour / Shochu High
· Green Tea High / Olong Hai / Jasmine High / Tomato High / Cork High / Ginger High ■ Orange High Sour / Grapefruit High Sour / Acerola High Sour / Apple High Sour / Lemon High Sour / Lime High Sour
·Cocktail
· Sangria (Rock / Sparkling / Orange / Ginger) ■ Cassis (Orange / Grapefruit / Oolong / Milk / Soda / Cork / Apple / Kiel / Cardinal) ■ Peach (Fuzzy Negble / Reggae Punch / Peach Fizz / Acerola / Apple / Ginger / Grape )
·Cocktail
■ Strawberry (Fiz / Milk / Soda / Apollo) ■ Campari (Rock / Soda / Orange / Grape / Ginger) ■ Kalua (Milk / Green Tea Milk / Apollo) ■ Malibu (Orange / Apple / Cork / Surf / Milk / Malibomoni) ■ Strawberry / Spumoni)
·Cocktail
· Mohito (mojito / peach / orange / apple / giant peak / yuzu / acerola / campari) ■ lychee (orange / apple / grapefruit / milk / ginger / tonic / fizz / China blue) ■ green tea (powdered tea milk / Coniferous Forest / Camara Kura / Matcha Fizz)
·Cocktail
- Melon (Ginger / Milk / Fiz / Melon Bowl / Melon Mooni) - Vodka (Vodka Tonic / Vodka Rickie / Screwdriver / Moscowurle / Bulldog) - Banana (Fizz / Milk / Monkey Punch / Bananamoni / Monkey Mix / Chocolate Banana)
·Cocktail
Tequila (Tequila tonic / Tequila back / Tequila sunrise) ■ Lamb (rum tonic / rum back / rum lime / Cuba River / Solkburno) ■ Jin (Gin tonic / Jinbac / Jin Ricky / Orange Blossom / Singapore sling / Tom Collins)
·Non-alcoholic cocktails
· Shari - Temple / Saratoga cooler / Pomegranate grapefruit / Summer day light / Tomato Orange
·Soft drink
· Orange juice / grapefruit juice / acerola juice / apple juice / cola / ginger ale / tomato juice / milk / oolong tea / jasmine tea / green tea
· ★ + 500 yen menu
· 【★ beer】 The premium · malt
2018/11/20 update