Course details
【1】 【Student Limited ♪】 Student Support party plans ♪ Maximum 180 minutes for drinks and luxurious 7 items 【2000 yen】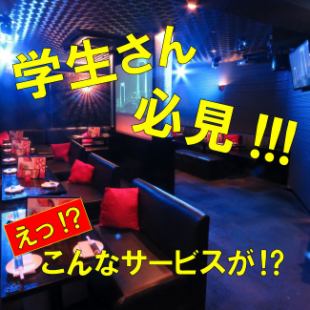 By using a coupon2000 yen
All-you-can-drink available

FreeDrink All you can drink (last order 20 minutes ago) ★ You can drink beer at 300 yen +
Reservation deadline

Until 23 o'clock on the desired shopping day
Available days for reservation

Monday - Sunday - Public holidays - Holidays
Delight special course only for students ♪ ♪ Please also use club activities, circle launch and drinking party etc. Lots of plush and delicious dishes with luxury and delicious! We will offer at affordable price ♪ Drinking party · New student welcome party · Circle drinking party · girls' party · birthday · If you do an anniversary, how about with Kokubuncho Lounge Dining Delight?
Course menu
~ Delight Student supporters party plan ~
ー ー ー ー ー ー ー ー ー ー ー ー ー ー ー ー ー ー ー ー ー ー ー ー ー ー ー ー ー ー ー ー ー ー ー ー ー ー ー ー ー ー ー ー ー ー ー ー ー ー ー ー
Delight Special Plan ☆ a handy price for students
Welcome party, circle drinking party, launch etc.
Recommended for those who want to do a special day!
All you can use the first 100 inch monitor & microphone in Kokubun-machi !!
I will also make a video letter with plus fee ♪
Those who do surprises certainly !!!
【Weekdays only】
You can extend the drink unlimited time to 180 minutes at + 500 yen course price!
※ It is usually 120 minutes.
In the case of private reservations ♪ karaoke with plus fee ♪
How about anyone who wants to make fun space with everyone ☆
ー ー ー ー ー ー ー ー ー ー ー ー ー ー ー ー ー ー ー ー ー ー ー ー ー ー ー ー ー ー ー ー ー ー ー ー ー ー ー ー ー ー ー ー ー ー ー ー ー ー ー ー ー ー
◇ food ◇
★ Colored salad with seasonal vegetables
★ Three kinds of fried potatoes to choose
【Salt / consomme / cheese】
★ Luxury! Steak with special sauce
★ Shrimp crackers - Sakura Limited Sakura accompanied ~
Deep-fried delicious ★
★ Seasonal pasta
★ Delight daily dessert
[You can also surprise the plate at + 1200 yen!]
* Some changes will be added to course contents depending on purchase situation
There is a case.
---------------------------
※ Japanese sake · plum wine · milk cocktail · wine series
We do not accept cocktail pitcher orders.
ー ー ー ー ー ー ー ー ー ー ー ー ー ー ー ー ー ー ー ー ー ー ー ー ー ー ー ー ー ー ー ー ー ー ー ー ー ー ー ー ー ー ー ー ー ー ー ー ー ー ー ー ー ー ー ー
【Cancellation Policy】
For bookings of 25 people or more, after the visit date one week before
Cancellation will receive a cancellation fee of 65%.
★ luxurious charter privilege ★
※ 25 people or more can use up to 65 people.
【1】 100 inch projector free ♪
【2】 Secretary-like preferential treatment system
【3】 DVD playable
【4】 Microphone rental
【5】 Introduction of second and third party at a special rate at affiliated stores
【6】 Guarantor number system (no minimum cancellation charge with minimum person setting)
If there are other unknown points please contact us ♪
All-you-can-drink menu
· Beer & beer cocktail [★ + 300 yen menu]
· ■ ■ Barley ■ Shandigeraf / Red Eye / Black Eye
· Whiskey · Highball
· ■ Whiskey (water split · lock · fizz) ■ Rin high ball / horn high ball / mega angle high ball / ginger high ball / cork high ball
· Japanese sake · shochu
· ■ hot / cold sake ■ Japanese sake cocktail: samurai / last samurai / back samurai ■ Wanko / Nanko (wheat)
· Wine & Wine Cocktail
· Red wine / White wine (glass) ■ Wine cooler / American lemonade / Splitzer / Kitty / Miffy / Red ball punch / Karimocho
· Fruit wine · Plum wine
· · · Big Fung / Honey & Yuzu / Sequercer / Mango (Rock · Sour · Ginger · Fizz) · Plum wine (Rock · Soda · Water · Green tea · Ginger split)
· Sour / Shochu High
· Green Tea High / Olong Hai / Jasmine High / Tomato High / Cork High / Ginger High ■ Orange High Sour / Grapefruit High Sour / Acerola High Sour / Apple High Sour / Lemon High Sour / Lime High Sour
·Cocktail
· Sangria (Rock / Sparkling / Orange / Ginger) ■ Cassis (Orange / Grapefruit / Oolong / Milk / Soda / Cork / Apple / Kiel / Cardinal) ■ Peach (Fuzzy Negble / Reggae Punch / Peach Fizz / Acerola / Apple / Ginger / Grape )
·Cocktail
■ Strawberry (Fiz / Milk / Soda / Apollo) ■ Campari (Rock / Soda / Orange / Grape / Ginger) ■ Kalua (Milk / Green Tea Milk / Apollo) ■ Malibu (Orange / Apple / Cork / Surf / Milk / Malibomoni) ■ Strawberry / Spumoni)
·Cocktail
· Mohito (mojito / peach / orange / apple / giant peak / yuzu / acerola / campari) ■ lychee (orange / apple / grapefruit / milk / ginger / tonic / fizz / China blue) ■ green tea (powdered tea milk / Coniferous Forest / Camara Kura / Matcha Fizz)
·Cocktail
- Melon (Ginger / Milk / Fiz / Melon Bowl / Melon Mooni) - Vodka (Vodka Tonic / Vodka Rickie / Screwdriver / Moscowurle / Bulldog) - Banana (Fizz / Milk / Monkey Punch / Bananamoni / Monkey Mix / Chocolate Banana)
·Cocktail
Tequila (Tequila tonic / Tequila back / Tequila sunrise) ■ Lamb (rum tonic / rum back / rum lime / Cuba River / Solkburno) ■ Jin (Gin tonic / Jinbac / Jin Ricky / Orange Blossom / Singapore sling / Tom Collins)
·Non-alcoholic cocktails
· Shari - Temple / Saratoga cooler / Pomegranate grapefruit / Summer day light / Tomato Orange
·Soft drink
· Orange juice / grapefruit juice / acerola juice / apple juice / cola / ginger ale / tomato juice / milk / oolong tea / jasmine tea / green tea
· ★ + 500 yen menu
· 【★ beer】 The premium · malt
2018/11/20 update