Course details
【5】 【Delight Surprise A Plan】 Video letter or photo frame 120 minutes Unlimited drinks + 7 dishes 3500 yen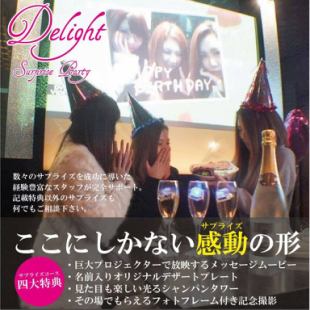 By using a coupon3500 yen
All-you-can-drink available

FreeDrink All you can drink (last order 20 minutes ago)
Reservation deadline

Three days before the desired store date until 17 o'clock
Available days for reservation

Monday - Sunday - Public holidays - Holidays
Surprise of the protagonists such as birthday and anniversary is left to leave.When photograph and video data can be gotten by mail, LINE etc. 2 hours before reservation, production of surprise movie is also available !!! «Projected on huge screen There is no doubt that you invite Namida to a sudden movie »&« Fireworks with special fireworks plate »♪ Gift a video letter you made as a disc ★
Course menu
~~~~~~~~~~~~~~~~~~~~~~~~~
☆ Surprise course available for 2 or more people ☆
※ In case of 2 people please note that it will be guided by 5 items with 3000 yen.
【1】 Create a surprise video letter
It is ok if you can send images with LINE etc!
If you like music of your choice please feel free to tell us.
After the video letter on the day, DVD will be given to guests leading the DVD ♪
* Depending on the content of production, there is a case where you will be charged a separate fee.
※ The number of pictures depends on the music you use.
【2】 Dessert plate with message
Please tell the staff the name, nickname, etc. of the protagonist during booking.
The dish will be 7 items.~ Cooking is an example ~
◇ Colorful seasonal vegetables salad
◇ Roasted duck
◇ Salmon Carpaccio
◇ Three kinds of french fries that you can choose
【Salt / consomme / cheese】
Deep-fried delicious ◇
◇ Seasonal pasta
◆ Surprise dessert plate with name included
Please note that the food content may change depending on the purchase of the day.
※ Please make your reservation 3 days in advance.
~~~~~~~~~~~~~~~~~~~~~~~~~
All-you-can-drink menu
· Beer & Beer Cocktail
· ■ ■ Barley ■ Shandigeraf / Red Eye / Black Eye
· Whiskey · Highball
· ■ Whiskey (water split · lock · fizz) ■ Rin high ball / horn high ball / mega angle high ball / ginger high ball / cork high ball
· Japanese sake · shochu
· ■ hot / cold sake ■ Japanese sake cocktail: samurai / last samurai / back samurai ■ Wanko / Nanko (wheat)
· Wine & Wine Cocktail
· Red wine / White wine (glass) ■ Wine cooler / American lemonade / Splitzer / Kitty / Miffy / Red ball punch / Karimocho
· Fruit wine · Plum wine
· · · Big Fung / Honey & Yuzu / Sequercer / Mango (Rock · Sour · Ginger · Fizz) · Plum wine (Rock · Soda · Water · Green tea · Ginger split)
· Sour / Shochu High
· Green Tea High / Olong Hai / Jasmine High / Tomato High / Cork High / Ginger High ■ Orange High Sour / Grapefruit High Sour / Acerola High Sour / Apple High Sour / Lemon High Sour / Lime High Sour
·Cocktail
· Sangria (Rock / Sparkling / Orange / Ginger) ■ Cassis (Orange / Grapefruit / Oolong / Milk / Soda / Cork / Apple / Kiel / Cardinal) ■ Peach (Fuzzy Negble / Reggae Punch / Peach Fizz / Acerola / Apple / Ginger / Grape )
·Cocktail
■ Strawberry (Fiz / Milk / Soda / Apollo) ■ Campari (Rock / Soda / Orange / Grape / Ginger) ■ Kalua (Milk / Green Tea Milk / Apollo) ■ Malibu (Orange / Apple / Cork / Surf / Milk / Malibomoni) ■ Strawberry / Spumoni)
·Cocktail
· Mohito (mojito / peach / orange / apple / giant peak / yuzu / acerola / campari) ■ lychee (orange / apple / grapefruit / milk / ginger / tonic / fizz / China blue) ■ green tea (powdered tea milk / Coniferous Forest / Camara Kura / Matcha Fizz)
·Cocktail
- Melon (Ginger / Milk / Fiz / Melon Bowl / Melon Mooni) - Vodka (Vodka Tonic / Vodka Rickie / Screwdriver / Moscowurle / Bulldog) - Banana (Fizz / Milk / Monkey Punch / Bananamoni / Monkey Mix / Chocolate Banana)
·Cocktail
Tequila (Tequila tonic / Tequila back / Tequila sunrise) ■ Lamb (rum tonic / rum back / rum lime / Cuba River / Solkburno) ■ Jin (Gin tonic / Jinbac / Jin Ricky / Orange Blossom / Singapore sling / Tom Collins)
·Non-alcoholic cocktails
· Shari - Temple / Saratoga cooler / Pomegranate grapefruit / Summer day light / Tomato Orange
·Soft drink
· Orange juice / grapefruit juice / acerola juice / apple juice / cola / ginger ale / tomato juice / milk / oolong tea / jasmine tea / green tea
· ★ + 500 yen menu
· 【★ beer】 The premium · malt
2018/11/20 update